DAT Tape Conversion to Digital
DAT Tape Conversion to CD or MP3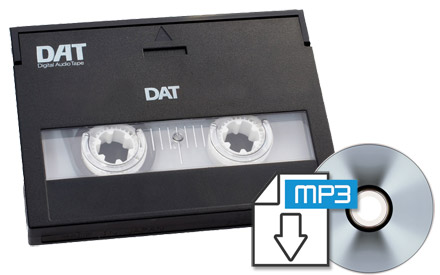 DAT Tape Pricing
Minimum Order $20 Details
DAT to Digital Conversion
Now is the time to transfer your DAT tapes to digital. You can choose to have your DAT tapes saved right to a CD that you can listen to on any CD player. You can also get the digital MP3 files that you can edit, transfer to other media, and listen to on any computer, smartphone or tablet.
Download MP3 Digital Files
If you choose the MP3 Digital download, you can download your files directly from us.
Processing Time
On average, orders will take approximately 2 weeks to be completed and shipped back to you.
Frequently Asked Questions
Do you return my DAT tapes to me?
Yes.
How long does it take to transfer my DAT tapes to digital?
Typical projects are completed in 2 weeks.
Do you outsource my DAT tapes outside the USA?
No. We do all our work in Utah.
Do you copyright my discs or MP3 Digital files?
No. You own your DAT tapes. We just professionally transfer your DAT tapes to MP3 digital format or CD.
Why DAT Tape Transfer?
The Most Obvious-- who wants to deal with DAT Tapes when everything else has gone digital??

Sound quality never decreases
Simple to use
Never need to rewind
Improved sound performance
Easy to store
CDs are projected to last over 100 years
Ability to edit once converted to Wav or Mp3 file.