DVD Video Slideshow
Features
Jump Points / Chapters
Title Slides
Music
Main Menu Title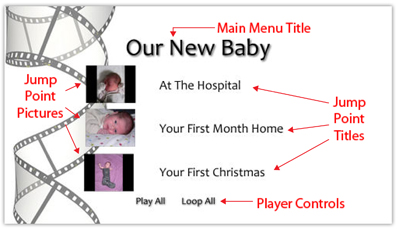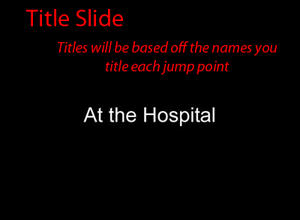 Music
Adding music to your DVD Video personalizes your project. You can choose from our music options, or send in your own music.
Once you have selected the music you want to use, you will want to tell us in the special instructions section on your order form.
If you decide that our library of music isn't a good fit for your Slide Show, send us a CD or MP3 files that you legally obtained, and we can use your music.
Images will be on screen for 5 seconds, with a 1-second fade-in & 1-second fade-out, totaling 7 seconds of screen time per image. You will want to provide approximately 7 seconds of music per image for each chapter on your Slide Show. Songs will need to begin & end in the same chapter. We can sync your Slide Show to the duration of your music so that it will end in sync with the song, but you will want to get close to 7 seconds per image.
Slide Show from Digital Images
If you already have your images in a digital format and don't need them converted first, we can easily create a video for you. You will want to send us the images that you want to use in the order you want them to appear in the Slide Show. If you aren't able to tell the order that you will like them to appear, just let us know and once we have them scanned, we will send you a link to download your files and then using a software like Google Drive, you will be able to organize your images and then you can send us a link to download your organized files.
Just give us a call and we can price out your project!
1-800-776-8357
Custom DVD Slideshow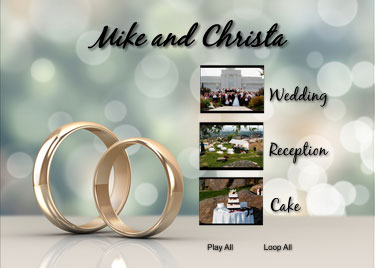 If you would like a Custom DVD slideshow of your wedding day, we have just what you are looking for. You can customize it so it's perfect to remember your special day forever.
For more information and options, see our
Wedding DVD Slideshow.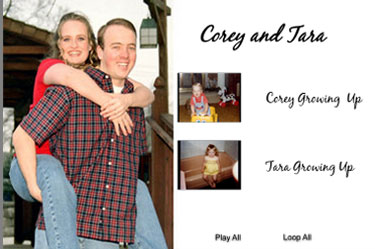 If you are looking for a custom DVD slideshow of you and your significant other growing up to show at your wedding reception, we can help! We have lots of tips you can do to help make this extra special.

For more information and options, see our Growing Up Wedding Slideshow.